Who are we?
Michigan Milk Producers Association (MMPA), established in 1916, is a member owned and operated dairy cooperative. MMPA serves approximately 1,600 dairy farmer members in Michigan, Indiana, Wisconsin and Ohio. The dairy cooperative, the 10th largest in the U.S., employs approximately 320 people in four states.
MMPA markets nearly 5 billion pounds of milk annually to fluid milk customers and food ingredient manufacturers. MMPA operates two manufacturing plants in Ovid and Constantine, Michigan and a cheese plant in Middlebury, Indiana. Products made at the Michigan plants include butter, ultra-filtered milk, powdered milk, cream and condensed skim milk. These products are sold to a wide range of food manufacturers who make end-use products such as candy, ice cream, pudding, baked goods, cheese and yogurt.
Lab Technician
Important Note: The above statements describe the principal and essential functions, but not all functions that may be inherent in the job. This job requires the ability to perform duties contained in the job description for this position, including, but not limited to, the above requirements. Reasonable accommodations will be made for otherwise qualified applicants, as needed, to enable them to fulfill these requirements.
Equal Opportunity Employer
Have thorough knowledge of product flow.
Ability to read and understand written procedures, manuals or the methodology of testing.
Have good organizational skills. Attention to detail.
Perform all duties and assignments in a safe and efficient manner, as stipulated by management.
Completion and maintenance of any and all required logs, records, etc.
Pass state examinations for certification and comply with all standards.
Perform all lab functions and testing now being performed and future tests, and other duties as and when assigned.
Awareness of and compliance with all HACCP, USDA, FDA, SQF, MDA, GMP, and Food Safety Standards.
Attend training both on and off site as required and train new operators as necessary. This does include the training of new employees for their initial qualification and refresher training.
Applicant must be fully qualified in accordance with current contract requirements as a lab technician.
Perform other duties, as assigned
Must be able to work well with others.
Operate dairy testing equipment.
Perform chemistry and Microbiological testing.
Must have good computer skills.
Have completed all courses required in the lab apprentice program or equivalent college degree.
Ability to work any shift, weekends or holidays (our plants operate 24/7). Reliable and consistent attendance required.
Must be able to pass a drug screen and background check.
Follow good manufacturing practice regulations, which requires gloves, hairnets, shoe covers and uniforms in working areas. Personal cleanliness is necessary to prevent product contamination.
Complies with all applicable food safety regulations and mandates (Safe Quality Foods, Food & Drug Admin, Pasteurized Milk Ordinance).
Ability to constantly stand/walk and to frequently bend/flex/twist/squat/carry for an 8-hour shift. Repetitive movements and tasks. Ability to lift, move, slide, and situate 55 pounds routinely.
Safety handle cleaning products and chemicals.
Ability to read and understand standards operating procedures in a team environment.
To perform this job successfully, an individual must be able to perform each responsibility satisfactorily. Reasonable accommodations may be made to enable individuals with disabilities to perform the responsibilities.
This job description is not designed to contain a comprehensive list of responsibilities that are required of the role. Responsibilities may change at any time with or without notice.
MMPA provides the opportunity for meaningful work that makes a difference in the dairy industry and in our communities. The diverse talents and perspectives of our employees help us to meet the needs of our member farms and the customers we serve.
Apply
Your application has been successfully submitted.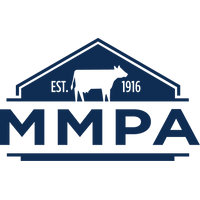 MMPA provides our employees with a comfortable and meaningful work environment, where we strive to make a difference in the dairy industry and in the ...